About Mission Development Company Company
Partners with the Community
The Mission Development Company Team cares about the quality of life in the San Bernardino Valley. The special neighborhoods and communities they design enhance the places that they call home.
Unlike out-of-town developers who build wall- to-wall houses and leave, the Mission Development Company team has strong local and family roots in the community. That local connection inspires them to design distinct neighborhoods with walkable streets and trail systems that link to stores, workplaces, schools and recreational facilities.
---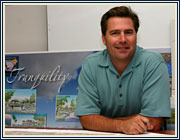 Glenn Elssmann
Founding Partner
Mission Development Company
Glenn solves problems creatively and thinks outside the box. A career in education and public service shaped his ability to see things in new ways. For Glenn, development is not about the house or lifestyle center. It's about creating neighborhoods and special places where families can relax, socialize and enjoy life.
When he was 13, his mother moved the family to Loma Linda. Glenn paid his tuition at Loma Linda Academy by doing odd jobs for the school. He attended the Riverside campus of Loma Linda University and pursued a career in education. For 10 years he taught grade school students at the Loma Linda Academy.
His concern for future development in the Loma Linda steered him toward public service. He initiated the idea for the HomeTown Buffet to locate in Loma Linda. Glenn was elected to the Loma Linda City Council for a four-year term from 1994 to 1998. Chairing the Loma Linda Redevelopment Agency, his interest in public improvements widened and he became active on the boards of the Inland Valley Development Agency and the San Bernardino Airport Authority.
Today Glenn is a civic leader and trained as a volunteer firefighter. He serves on the boards of the Loma Linda Academy and Inland Temporary Homes. This nonprofit agency addresses housing needs for the working poor and people in transition from shelters, halfway houses and care facilities.
Glenn is an outdoor enthusiast and helped develop the Mission Road Project. He continues to live in his hometown with his wife, Heidi and two children, Lexi and Ryan. He wants to look back with pride on new communities he creates that benefit the whole area.